The Grandfather Clocks at Springfield
Springfield has two magnificent antique grandfather clocks at the front of the worship room.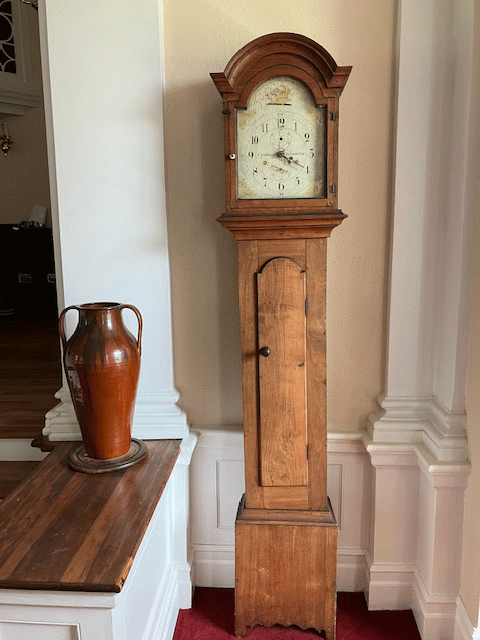 In 1819, Joshua Anderson, a member of Springfield Meeting, married Rachel Carter, also a member. Both were born in Guilford County. The first piece of furniture for their new home was this Seth Thomas Clock, which was given by Joshua to Rachel as a wedding gift.
In 1856 their son, Joel Anderson and his wife, Jane Hill, inherited the clock. In 1902, it was by will inherited by a grandson, Troy Hamilton, who later placed it in this Meeting House for safe-keeping when he moved to Kansas.

Sara Richardson Haworth after much communication with Troy Hamilton purchased the clock in order that Springfield might have title to it. It now belongs to Springfield Monthly Meeting. [Note: this is the right-hand clock as you face the platform]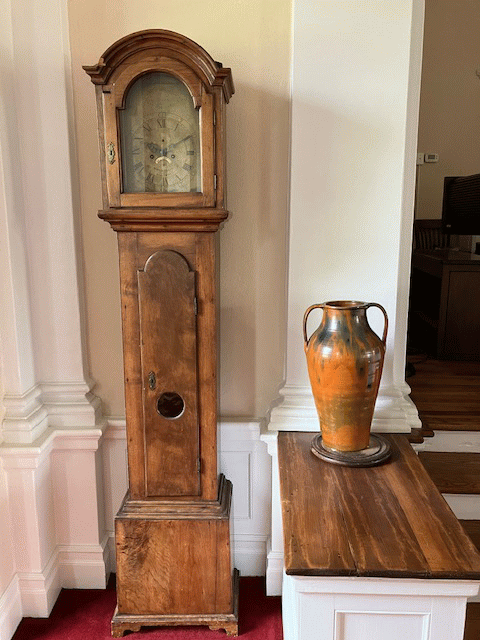 The older of the two clocks was donated by James Nathan Branson Hill was a great grandson of Nathan H.B. Hill, teacher and student at New Garden Boarding School from 1848-1849. When visiting his ancestral home in Randolph County in 1936, he was accompanied by his friend John Jay Blair (who had recently established a Museum of Old Domestic Arts for the Memorial Association, which occupies the old meetinghouse at Springfield). Mr. Hill visited the spot and was deeply interested in the meeting and its history.
He told how the old clocks were taken first to Indiana, then to the state of Washington by his ancestors when they left the old home in Randolph County. As one of these clocks now belonged to him, he asked that he might present it to Springfield Meeting, as he desired to bring it back to North Carolina where it could be kept in Quaker surroundings. His kind offer met with appreciative approval and the offer was gladly accepted.
James Nathan Branson Hill sent immediately to Washington and ordered his clock sent to him at his present home in Boston, Mass. He had the clock repaired, set in good running order and shipped it to John Jay Blair, who placed it in Springfield Friends Meeting House where it will remain.
This brass face on this clock is dated 1797, and then re-engraved in 1897. The clock works were probably purchased from Philadelphia. The case of the clock was built by a local Quaker cabinet maker.
[Note: this is the left-hand clock as you face the platform]
A third, more modern grandfather clock was donated to the meeting in 2021 by Donald Brower Sr. and Pat Brower. It has been placed in the Martha Jay Parlor.