History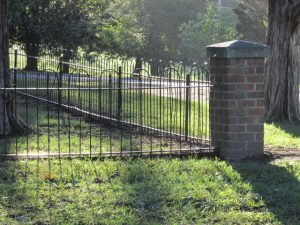 The first recorded burial at Springfield Friends Cemetery was that of Mary Hoggatt in 1780. In 1906 John J. Blair began the Springfield Memorial Association and the restoration of the cemetery "to preserve the history, the traditions and spirit of those who lie in this hallowed spot."
Many of the earliest graves are not marked, since grave markers were not allowed by the first generations of Friends. The oldest graves are located in Section 1 of the cemetery, in the angle between the meetinghouse and the museum.
The Springfield Memorial Association mows the grass and oversees the cemetery. Families are free to plant flowers or have arrangements of artificial flowers. Families are also responsible for cleaning grave stones or burial markers which have become stained, covered with lichen or repairing stones or markers which have been broken or overturned.
Cemetery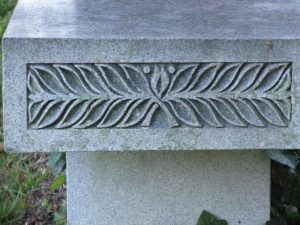 You must purchase a plot to be buried in the cemetery. Current cost of plots in the old part of the cemetery is $900. Cost of plots per space in the new part is $1,000.
All current members of the Memorial Association are entitled to purchase plots. Cost of membership is $25 per year, or $150 for life membership.
People who were members of Springfield Friends Meeting prior to 1975 are also entitled to purchase plots.
People who were members after 1975 but who are not currently members are not entitled to purchase plots.
Columbarium
You must purchase a niche to have ashes placed in the columbarium. Each niche has enough for two sets of ashes.
Cost of a niche is currently $1,600 for members of the Springfield Memorial Association. This includes the niche itself, opening and closing costs for placing the ashes, and a bronze plaque with name(s) engraved on it. Cost for non-members is $1,750, which includes the cost of joining the association.
Guidebook
For those interested in locating individual graves or doing genealogy, we recommend Springfield Friends Cemetery: 1780-2011, edited by Brenda G. Haworth, Historian and Editor of the Springfield Memorial Association.
The guidebook includes all of the information which is legible on each stone, with exact spelling as it appears. Genealogical information (where known) is also printed under the marker information. The guidebook is fully indexed and is organized by sections in the cemetery and also lists names for people we know are buried but here, but where there is no existing marker or known location.
Copies are available for $15 each and are available at the meeting office. An electronic version of the guidebook is available on CD for $10.
For information about the cemetery, to purchase a plot or to arrange for burial, please contact Tom Terrell, (1-336-847-2000).
For information about the columbarium, to purchase a niche or to arrange for placement of ashes, please contact Marcy Shipwash (336-880-9180).