In the late 1800s while living in Western Yearly Meeting, Eliza Armstrong Cox (1850-1935) had a clear vision of the part Quaker women should contribute to the Master's great plan of world evangelization. She started the movement which developed into the Woman's Missionary Union of Friends in America, known today as the United Society of Friends Women International (USFWI).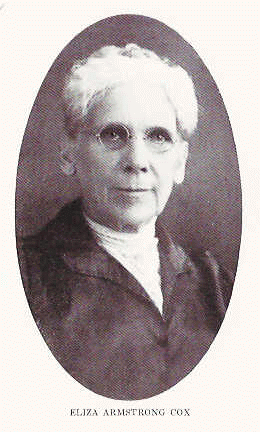 The first Woman's Missionary Society formed in 1881. In 1888 women from 10 yearly meetings attended the first assembly in Indianapolis, Indiana. This paved the way for the Glens Falls Conference of 1890, which officially inaugurated the Woman's Foreign Missionary Society of Friends in America. Conferences have continued to be held every 3 years at various locations to the present.
The Friends Missionary Advocate, the official periodical, began in 1885 and continues publication now as The Advocate. Blueprints, an annual publication of program outlines, has been produced since 1944. Ecumenical ties are maintained through Church Women United. Financial support is budgeted to projects of Friends United Meeting and other Quaker and Christian organizations. USFWI societies exist in most yearly meetings outside Europe and Asia.
The Sara R. Haworth Mission Circle here at Springfield is a member of the United Society of Friends Women International. Please join them at noon on the 4th Tuesday of every month in the Fellowship Hall.
Members of USFWI groups in our area stay in touch with each other through annual gatherings, mission projects, and the Carolina Woman newsletter which comes out several times each year. For more information, please contact Rita Walker.