Springfield Road named for Springfield Friends Meeting, founded in 1773, celebrating our 250th birthday in 2023!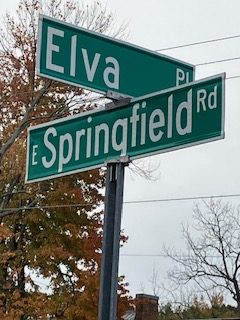 Archdale formerly known as Bush Hill, the city's name was changed in honor of John Archdale (1642-1717) a Quaker who served as governor of North Carolina.
Model Farm Road named for the Model Farm, established by the Quakers after the Civil War to demonstrate modern scientific agricultural methods.
Elva Place named for Elva Jane Blair (1870-1956), longtime Sunday School teacher at Springfield Friends Meeting
Martha Place named for Martha Blair (1868-1947), her older sister and manager of the Blair Dairy (now the site of Blair Park).
Moore Street named for Joseph Moore (1832-1905), president of Earlham College in Indiana, who came to supervise Quaker relief work during the Reconstruction.
Francis Street named for Francis T. King (1819-1891), president of the Baltimore Association.
Jay Place named for Allen Jay (1831-1910), Joseph Moore's successor as director of the relief work; ANYTHING in town with "Allen Jay" on it is named after him.
Nathan Hunt Drive named for Nathan Hunt Jr., first mayor of High Point and a member of Springfield Friends.
Baltimore Street named for a Quaker organization, the Baltimore Association to Advise and Assist Friends of the Southern States, which ran the Model Farm, built 60 elementary schools in North Carolina, and stopped the flow of post-Civil War refugees from the state.
Swathmore Avenue Misspelling of Swarthmore, the home of George Fox and Margaret Fell in England, as well as the town of Swarthmore, PA.
Earlham Place named after Earlham College in Richmond, IN and for Earlham Hall, home of Margaret Fell Fox, the "mother of Quakerism".
Blair Park City Park built on land which was once the farm of the Blair family.
Penn-Griffin School named after William Penn, founder of Pennsylvania
Guilford Avenue named after Guilford College, a Quaker
Guilford College Road college in Greensboro, which was founded with much support by members of Springfield Friends.
Most of downtown High Point was built on what was once the 300-acre farm belonging to Jeremiah Piggott, a member of Springfield.
Other streets undoubtedly have Quaker connections, such as English, Parris, Hopewell and Jarrell among many others.